Wanner B-baby
The micro-grinding especially suitable for the smallest sprue, such as those occure in CD production, and micro-injection molding. Very easy to clean.
More details
Wanner C-compact
This handy grinder is ideally suited for directly at small injection molding machines grinding sprues. The mill is available with full integration within the plating of virtually all major brands injection molding machines.
More details
Wanner D-dynamic
The robust grinder is suitable for grinding sprues and foil products. The mill is like all Wanner granulators very easy to clean and maintain. The mill is available with a grinding chamber to 250x505mm. Available with dedusting modul and soundproof enclosure.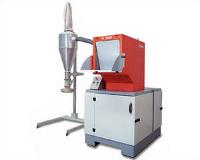 Wanner E-energy
The grinder that performs with a grinding chamber of up to 450x800mm so is suitable for most products. The knives have specially developed retractable function. Standard equipped with a soundproof enclosure and optional with an dedusting modul.
Wanner X-xtra
This rock solid tooth roller grinder guarantees years of trouble-free operation, suitable for hard and dust sensitive plastics. The grinder is available with a grinding chamber to 350x260mm
More details
Wanner TG-extruder
Unique concept, makes sprues and dust re-granulate. The waste product is by means of an double screw extruder easily pulled into the extruder, after which it is crushed to granulate at the end of the cooling bath.
Wanner TT-cutter
Specially developed reducer for hard to bend extruded products such as strips. They reduce the strips in order to grind them. The units are supplied according to customer requirements. Also possible with conveyor belt, as shown.